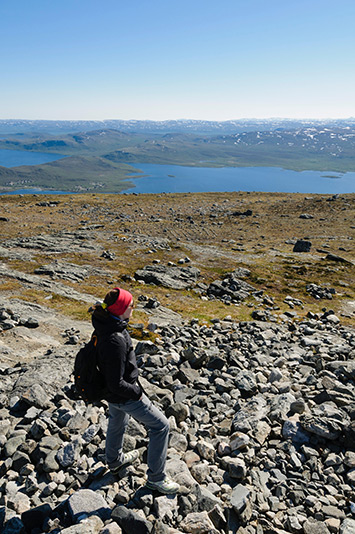 Summer
Summer in Finland is a spectacular time of the year, but north of the Arctic Circle it's even more special as the sun does not set at all for a couple of months, staying above the horizon for over 70 consecutive days. This phenomenon, known as the Midnight Sun, means you can do all the same things that you would do during the day. The biggest difference comes from the incredible change in the nature of the light – the sun takes on a reddish-yellow colour and everything around you is bathed in an unimaginably warm, bright light. A photographer's dream!
During summer you can hike, swim, paddle, go fishing and enjoy the nightless night. The endless summer days under the midnight sun are perfect for watching wildlife and exploring the great outdoors. A summer activity holiday in Finnish Lapland is a great way to spend quality time with family or friends, and the fresh air and pristine countryside really lets you reconnect with nature.
As the temperatures rise, ice-fishing becomes fishing, and Lapland offers anglers diverse and pristine waters with good chances of making a catch. Here you can find some of the best salmon and grayling spots in Northern Europe.
If mountain biking with a bit of an adventure fascinates you, look no further – the land of extremes will reward you with a single track paradise remote enough to make even the shortest trip feel like an adventure. Clearly marked routes and a comprehensive network of huts and shelters will make your days of exploring a joy.
The expert guides are just as hot on Lapland in the summer, and the mountains provide fantastic walking trails on both foot and horseback.
As the rivers and lakes thaw and the snow melts, kayaking and river cruises are an unforgettable way to see the stunning surroundings and wildlife that Lapland has to offer.