Things to do
Considered to be one of the natural wonders of the world, the Aurora Borealis or 'Northern Lights' are a mesmerising swirling light show that dance across the night sky. They appear more than 200 nights a year between mid-September and late April and the thrill of witnessing them is a once-in-a-lifetime experience for many. You're in luck: this region is one of the best places on earth to witness this incredible natural phenomenon!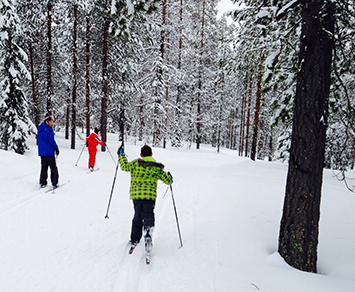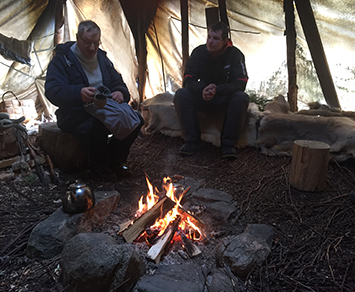 Winter
Skiing in the Arctic Circle is … different. The season is long – you can ski from before Christmas right through until May. The amazing snow stays pristine, not deteriorating through the freeze – thaw – freeze cycle that blights pistes elsewhere. There are few crowds and no queues for the ski lifts.
The unspoiled Arctic wilderness is jaw-droppingly beautiful, with an other-worldly quality. And there are so many exhilarating ways to get in amongst it – snowmobiles, downhill, cross-country, husky safaris, snow shoes, reindeer excursions. Indeed, there are probably more winter activities available than time to try them all! The Finns speak excellent English and create a welcoming, hospitable vibe. Look up on a cloudless winter night and you'll likely see the Northern Lights. The resorts are far less frequented than many others making it a perfect destination for families or adventure seekers.
It's different up here – whether it's the light, the latitude or the snow, there's something truly special.
Ylläs is the largest resort in Lapland and Finland with 63 slopes and 29 lifts, excellent snow park areas and super-G slopes. For snowboarders Ylläs is a dream come true with many possibilities. For off-piste skiers there are several fells of untouched snow where the powder stays fresh for weeks in the sub-zero temperatures. Floodlighting on 12 slopes provides night skiing which is an exhilarating experience. The nearest slopes are less than 5km from the cabin and there is a free shuttle bus, the nearest stop just 5 minutes' walk from the cabin.
For cross-country skiers, Ylläs is also one of the most popular places with the largest network of tracks in Finland: 330 km of prepared tracks, 38 km of them lit for night time skiing. You can put your skis on right in the front yard of the cabin and the nearest prepared track is just 400m away.
Hiking with snowshoes is another popular sport, combining fun with a good work out and Ylläs has around 50km of marked snowshoeing routes. If that's too sedate for you, then why not try the latest craze up here: "fat biking". Fat biking means riding mountain bikes with wide tyres for the snow. This is even more fun that it sounds and – as you'd expect – Ylläs has over 50km of superb winter biking trails.
Snowmobiling is fantastic here too, with more than 400km of prepared tracks, or you could also try husky and reindeer safaris, horse riding or ice fishing.
We nearly forgot to mention Santa Claus! Ylläs is situated very close to the Lapp Village where Santa lives so who can resist the lure of a reindeer sled ride through the snowy forest to visit Santa in his cabin. Pure magic for adults and children alike!
---
Snow Village
A trip to the Snow Village Ice Hotel is a magical addition to any holiday. The hotel is nestled in the forest surrounding Ylläs, and every winter a dedicated team of ice sculptors carve around 20 million kilograms of snow and natural crystal-clear ice to build an entire village which changes in shape, size and design each year. Covering an area of about 20,000 square metres, the Snow Village consists of a Snow Hotel with snow rooms and suites, an Ice Restaurant, an Ice Bar, a slide and a vast network of corridors full of spectacular snow and ice art to explore. You can enjoy a drink in the bar, have supper in the restaurant or rent a room for the night – but be sure to bring plenty of layers!!